Estimated reading time:
2
minutes
Cyber-attacks and cybercrimes are no more only about metro cities of India.
In fact, cyber criminals are quick to shift their attention to smaller cities, owing to the fact that people/businesses in smaller cities are less familiar with the need or importance of cyber security. This makes it easier for cyber criminals to exploit vulnerabilities that are often left unattended for a long period of time.
Yet another fact that makes it easier for cyber criminals to plan targeted attacks in smaller cities is the lack of awareness amongst people about digital security. While smartphones and smart devices have already penetrated the Tier 2 and Tier 3 cities of India, people are still not familiar with the security risks associated with using these devices.
The recent incidence of a Surat couple's webclip getting leaked via unauthorized access of their smart TV is exemplary of the weak security measures taken by people while using IoT devices.
Malware attacks are one of the biggest threats to cybersecurity in India. Well, this shouldn't come as a surprise, given the increased use of pirated sites and cracked software used in India for downloading games, movies, web series and other digital media. This is applicable mostly for the younger generation who are quick to explore non-trustworthy or third party websites for free downloads, without the least bit of consideration on the number of malware they might unknowingly be downloading.
Quick Heal 2019 quarterly threat report suggests Trojan as being the most common malware to be detected on Windows based devices in India. Trojans are mostly known to spread via malicious websites, popups, email attachments, etc.
Yet another significant observation has been the malware attacks on Android devices via suspicious third party apps. This again attributes to the fact that these apps are commonly used by youngsters for downloading cheap cracks.
Well, the recent city-wise malware detection count reported by Quick Heal Security Labs is a huge eye-opener to the cyber security risks that the smaller cities of India face: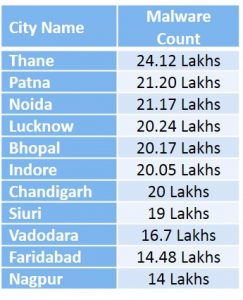 More precisely, the addition of new cities like Siuri, Vadodara, etc. to the above list, as against the below mentioned 2018 city-wise detection list, are a clear giveaway to the fact that cyber-attacks are touching each and every part of the country.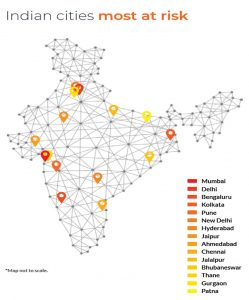 Thus, it is not just the metro cities that need to be geared up in terms of robust cyber security but even the smaller cities of the country are in need of awareness regarding best security practices, for optimum defence against the latest and evolving threats.
Have something to add to this story? Share it in the comments.